This is a complete customizable technological solution that provides the most suitable products through the most convenient channels for the current and future needs of each operator.
It offers operators the possibility of having a platform that integrally compiles the processes of distribution, management and processing of content as well as the validation of users.
WORKFLOW
Our solution provides maximum protection for content and any operation, from traditional transmission to the most advanced viewing experience available.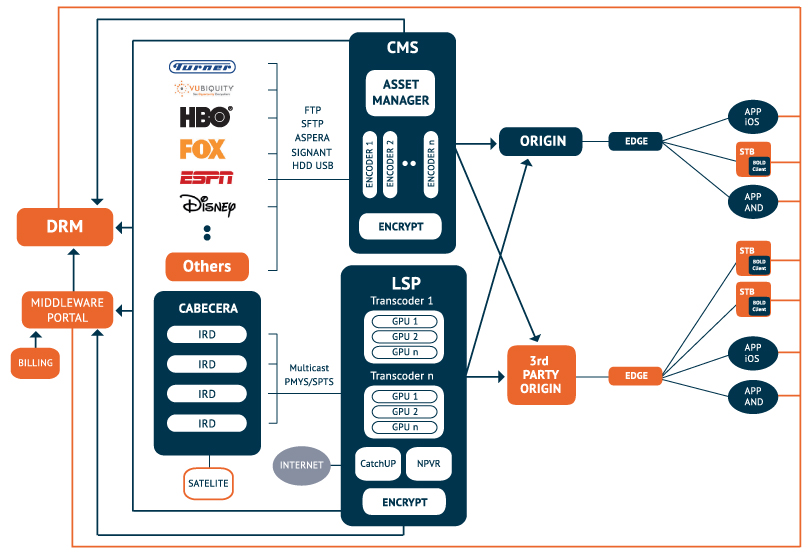 SECURITY
Security is the base of all BOLD MSS products: All solutions provide maximum protection for the content and any operation.
This includes:
Handling of content security needs for any type of distribution technology and consumer devices.
Providing a single management system.
We have full support from our partner NAGRA, the world leading provider of content protection. With its Contego, NAGRA has raised the industry to an unmatched level.
In addition, it allows managing content security needs for any type of distribution technology, device or security client, in a unified management system supported by our partner NAGRA, which has an unparalleled record in the protection of content and that with Contego ™ have elevated the standard industry to extraordinary levels.
These solutions integrate the latest TiVo middleware technologies, our top partner, and its CubiTV product. We promote content distribution through IP and DVB, exploiting the best advantages of both worlds, being able to work in hybrid systems as well as in exclusive IP or DVB.